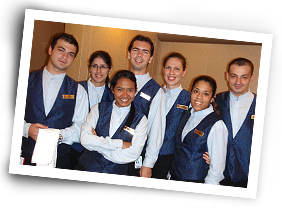 During my time as an employment interviewer at Walt Disney World I conducted thousands of interviews, or as Disney calls it, casting for "roles in the show".
My strategy as a Disney employment interviewer was to have a relaxed and friendly conversation about what my applicant wanted to do at Walt Disney World. So my go-to question on EVERY interview was simply this, "Tell me what you'd like to do here?" Of those thousands of interviews, a very small percentage (less than 5%) would respond with any type of specific focus on a position. This is what it sounded like:
Me: "Tell me what you'd like to do here at Disney..."
Applicant: …..(Blank stare) "…ummm...what do you have available?"
Every time- wrong answer. I felt bad for these applicants; clearly they wanted a job, they had the initiative to get to our Casting Center building, fill out an application, and sit for an interview- no easy task for a lot of these folks. But they didn't know what their options were with the company.
I wanted to hear, "Oh, I've wanted to be a Jungle Cruise skipper since I was 7, I love that ride and I think I'd be good at entertaining your guests!" Sadly, those answers were few and far between. After more in depth questioning and conversation I would eventually get to a role at which the candidate would excel. The bottom line is that these folks just wanted to work for a great company, but didn't know where to begin.
Looking back now, I realize that if given the opportunity to expose entry level new-hires to various roles throughout the organization, employees- and the organization-would benefit greatly. In these cases, the adage applies: Hire for character, train for skill.
How do you do this?
...by creating a program that structures entry level positions into clearly defined career paths or programs. Organizations like Price Waterhouse Cooper (PWC) and Disney have very successful internship programs structured in this manner. However, focusing on truly entry level programs (not internship or college-based) allows for even greater development opportunities in roles that are traditionally high-turnover. Benefits of these "leg-up" or "jumpstart" programs include:
Creates a pipeline of qualified employees

Establishes a performance record

Prevents burnout in highly repetitive positions

Offers developmental opportunities

Strengthens the organization through better qualified entry level employees

Employees have a better understanding of how they contribute to the organization

Improved employee engagement and commitment

Provides employees with career goals
Sure, your organization may not have the size or the resources of the Walt Disney Company or PWC, but it sure can reap the same rewards of a program structured similarly, on a smaller scale, and with a focus on entry level employees. Check out our Talent Selection Program Checklist to learn more about how to structure your successful jumpstart employment program, and keep your pipeline flowing.

ABOUT DONNELLY EFFECT: With over 20 years of Disney leadership experience, Mike Donnelly, Chief Experience Officer (CEO) of Donnelly Effect specializes in helping organizations build customer loyalty through organizational, leadership and employee development. Donnelly Effect is home of the exclusive "World-Class Workshop" series and offers consulting services and keynote addresses to audiences of all sizes and industries. Since 2007, Mike Donnelly has been a contracted Disney Institute Facilitator, delivering Disney training to audiences across the United States.