It's

#NationalSaveASign

Month!

One service-related concept we referenced a lot during my time as a leader at Walt Disney World was the notion of "good show and bad show". "Good show" is a Disney term for anything that adds to the guest experience. "Bad show" is anything that detracts from the guest experience.
This simple, but extremely effective concept is easily understood by cast members and is something your organization might consider adopting as your own. Where most organizations miss the boat is thinking that service is only delivered by humans. When in reality, everything your customer comes in contact with speaks volumes about how you operate.

Good Show vs. Bad Show
I was recently reminded of the "good show-bad show" model when I stumbled upon a sign at a local retail shop. In big bold letters the sign read, "no shirt, no shoes, no service". Granted, the rule is valid, but the way in which the message is communicated is undoubtedly "bad show.

Messaging is more important than we think
Words can have literal meaning as well as an implied connotation that communicates to your customers on many levels. Font, tone, color, location all matter. Your signage sends signals that are about more than just the words on the page.
When considering the customer experience, one thing is for sure: Signs send a message!
The best signs tend to be informational, welcoming, clear, even entertaining. Instead, we're bombarded with ones that are confusing or meant to inhibit customers, which create negative energy from the start.
"Show up" with Disney-inspired messaging
Though the world has gone digital, signage still matters. Consistent marketing and messaging efforts help create seamless experiences for both you and your customers. Signage that Disney would dub a "good show" should do two things:
Reinforce the experience principles on which your organization was founded

Communicate the level of service your customers can expect each and every time
As an example, surely there is a better way to communicate that only "fully clothed" customers will be served. Consider re-imagining your signage as another opportunity to engage with your customers and thoughtfully guide them through your procedures, processes, and places.
Here are two great examples of clear, witty, welcoming signage that communicate the intended message well: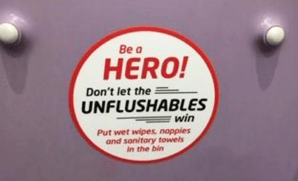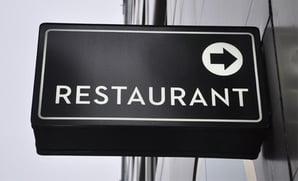 This month, we're celebrating #NationalSaveASign month by saving bad signs all around the world. If you'd like to submit a "bad show" sign to us, snap a picture and email it to us @
Mike@DonnellyEffect.com
with the subject: Save A Sign.
We

'll be awarding the best "bad show" sign with a sign redesign to "good show" that we'll highlight in future blogs.
Good luck everyone... and may the worst sign win!

---
Want to BE MORE EFFECTIVE? Follow us on the journey:
ABOUT MIKE DONNELLY
: With over 20 years of Disney leadership experience, Mike Donnelly, Chief Experience Officer (CEO) of Donnelly Effect shares his insights on Talent Selection and Hiring, Employee Onboarding, Customer Experience, Service Culture and Leadership-among others. Donnelly Effect is home of the exclusive "World-Class Workshop" series and offers consulting services and keynote addresses to audiences of all sizes and industries. Since 2007, Mike Donnelly has been a contracted Disney Institute Facilitator, delivering Disney customer service training to audiences across the United States.