By the tail end of summer, most things start to creep back to normal. Kids return to school, summertime vacations are in the books, and reintegrating back into a normal work day schedule gets easier.

But truth be told, this comforting sense of normalcy is

fleeting. The holiday season is coming in

HOT!
And it's bringing with it increases in customer demands, traffic, and hours worked. This is hardly new news for you as an informed leader. You've likely been gearing up for this annual flurry for weeks, but now is not the time to let off the gas.
Service is imperative during the holiday season. This time of year is the calm before the storm and time spent prepping for the rush should be used wisely.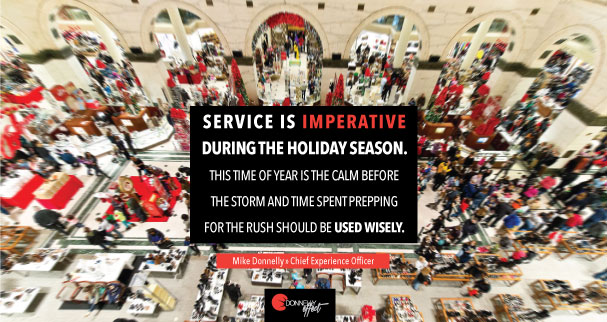 STEP 1:

Accept the Challenge

Now is the time to plan and set expectations of great service throughout your organization. Spikes in demand will undoubtedly test your staff and purposeful leadership will help you come out the other side stronger than ever.

Inspired employees thrive under transparent and proactive leaders. As a leader, if you set the expectation that a challenge is forthcoming, then the challenge itself (the holiday rush) will create less frustration. Be transparent about the road ahead. Then, double check that your processes are empowering your employees to do what they do best.

Use the coming weeks to plan and set clear expectations of great service that will shape – and reinforce – quality standards when it matters most, such as updating your support documentation or preparing proper customer responses to common scenarios. Build a list (and check it twice) of internal resources for your service staff.

Whatever you do, don't neglect your most valuable players: YOUR STAFF.
STEP 2:

Make Self-Care a Priority

Customers are a top priority, but your people are your greatest asset. Remember, stressful times for customers mean stressful times for employees. This presents an additional challenge to service. Leaders have a new responsibility to uphold – one that protects their team from the inside, out. Leaders should make an effort to be more empathetic and patient as the stress of the season will test even your best people.

Success is contingent upon your employee's determination, focus, and professionalism during the holiday rush. But no amount of Halloween candy, Christmas jingles, or pumpkin spice flavorings will replenish an employee joy-o-meter that's running low on fuel.

Here's what we know: Holiday shoppers expect more during the holiday season. Employees who aren't feeling particularly joyous can dismantle your service framework with just one negative emotional reaction.

Encourage positive culture by focusing on your people's emotional well-being. Internal company "self-care" is important in order for your team to engage in the best decisions, actions, and everyday operations. Do you have a plan in place to care for, support, and appreciate your team for their hard work on the back end?

Simple acts of reciprocity and acknowledgement will help motivate your team to power through the busy season in the most genuine way. Consider planning a holiday season "kick-off" breakfast to communicate changes and set expectations, scheduling additional staff to handle the demand, and offering heartfelt "thank you for being here, I appreciate you" messaging to your staff.

People on both sides of the check-out counter matter when it comes to sustaining service to external AND internal customers. With substantial end-of-year profits in play, now is the time to plan and prepare every aspect of your service strategy. After all, when an organization has a heart for service, the result is a world-class service reputation that brings customers back again and again.
---
Want to BE MORE EFFECTIVE? Follow us on the journey:
ABOUT MIKE DONNELLY
: With over 20 years of Disney leadership experience, Mike Donnelly, Chief Experience Officer (CEO) of Donnelly Effect shares his insights on T

alent Selection and Hiring

, Employee Onboarding, Customer Experience, Service Culture and Leadership-among others. Donnelly Effect is home of the exclusive "World-Class Workshop" series and offers consulting services and keynote addresses to audiences of all sizes and industries. Since 2007, Mike Donnelly has been a contracted Disney Institute Facilitator, delivering Disney customer service training to audiences across the United States.