Donnelly Effect delivers 17 in '17: 17 actionable SPARKS to ignite your team for better leadership, customer and employee experience and a better bottom line.
It's been said that employees don't quit their job,

they quit their boss.

We've all been in the working world long enough to know that, unfortunately, truly exceptional leaders are hard to come by. Not only does this result in disheartened employees, it's remarkably bad for business.
Here's the thing: Leaders produce leaders and managers produce followers. Truly inspired leadership is more than being in charge and managing people — especially when it comes to service. Without great leadership, you can kiss happy customers goodbye.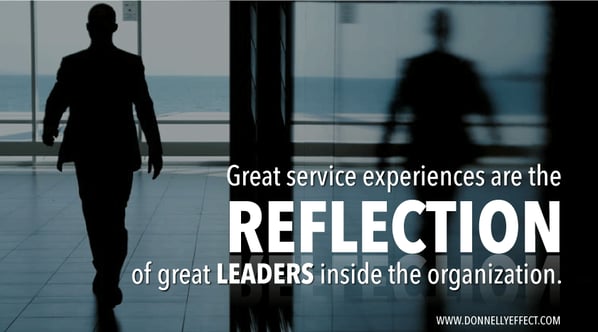 Great service experiences are the reflection of great leaders inside the organization. In fact, great service comes, most importantly, from the systems and processes established by Leadership to enable great service. The key to delivering consistently delightful service is to first understand why that is.
The mirror effect of leadership in service

As a parent, you're probably well versed in the mantra "Do as I say, not as I do." Sure, it work may wonders for outlining behavior expectations in your children, but adhering to this philosophy in service will rot an organization from the inside out. Those in leadership positions should know that employees constantly look to them to guide, or mirror, their own service behavior and should act accordingly as a result.
When leaders call out, or notice service, the result is more great service. But how you do it will define how your message is perceived. Leaders should be gentle when correcting service behavior that misses the mark. Know that what you choose to notice —or ignore — will seep into every other staff member's internal handbook.
Simply put, Leadership in service starts from the top, down.
Why this is effective
To create an organization that consistently delivers on their promise for great service, work on building a culture of service throughout your organization. A culture that inspires leaders of all levels to be great all the time. I experienced this process first-hand as a Disney leader and I believe it's a core reason why Walt Disney World has earned a reputation for unmatched service, and a guest return rate higher than it's competitors.
Leaders should weave their service philosophy into everything they do. This can be done by supporting open dialogue conversations and encouraging employee empowerment. If you permit it you promote it: When leaders enact a store policy that requires employees get manager approval to process a return or refund, it's a doubly bad procedure. One, it makes the customer wait. Two, it suggests leaders do not trust their employees. Break down service barriers by fostering an environment of accountability and authenticity instead.
Remember coaching is a collaborative, ongoing process intended to develop employees over time, so efforts to inspire employees can't be minimized into occasional one-off attempts at correction.
Take a moment to diagnose your service experience:

What does your reflection PORTRAY? If it could use some work, see how the mirror effect of leadership can help your organization build an army of leaders ready to TRANSFORM your customer experience.
Want to BE MORE EFFECTIVE? Follow us to learn every 17 in '17:
Missed our previous SPARKS? Check them out below!

ABOUT MIKE DONNELLY: With over 20 years of Disney leadership experience, Mike Donnelly, Chief Experience Officer (CEO) of Donnelly Effect shares his insights on Talent Selection and Hiring, Employee Onboarding, Customer Experience, Service Culture and Leadership-among others. Donnelly Effect is home of the exclusive "World-Class Workshop" series and offers consulting services and keynote addresses to audiences of all sizes and industries. Since 2007, Mike Donnelly has been a contracted Disney Institute Facilitator, delivering Disney customer service training to audiences across the United States.