Donnelly Effect delivers 17 in '17: 17 actionable SPARKS to ignite your team for better leadership, customer and employee experience and a better bottom line.
Merry Christmas and Happy Holidays!
Earlier this year, the Donnelly Effect team promised to encourage you with 17 actionable strategies you and your team can implement in 2017. We never realized that delivering on our 17 in '17 promise would end up inspiring us to take action just as much as it did you.
2017 was one of our best years yet. We strengthened relationships with our existing clients and formulated new ones. We spent a week conveying our service culture message to leaders in Brazil. The revelations received and lessons learned — both here and abroad — taught me two important things:
1. Service is UNIVERSAL:

the power of genuine service transcends language and geography
2. Happiness is CONTAGIOUS:

committing to happiness inspires both you and your workforce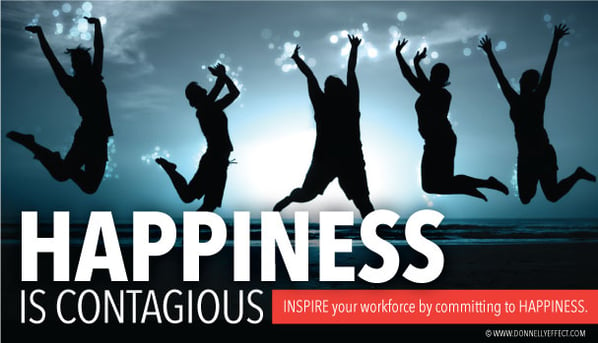 Happiness is contagious
Of all the things we could "catch" from others, happiness is by far the most beneficial. We stand by our commitment to "work happy" at Donnelly Effect every day because we know that our mood resonates.
Your good mood positively impacts everyone around you. On the flip side, a negative vibe can seep through networks and attack our wellbeing just as quickly.
So, challenge yourself to be proactively happy in the coming New Year.
Know there is nothing selfish about it. You have an obligation to share your joy or waste its promising effects entirely. Remember, misery does not love company — but happiness sure does.
Happiness leads to success
Sadly, we often focus on finding the quickest ways to get ahead at work rather than simply enjoying our day.
It goes back to our basic service principles: Responsible, engaged, and inspired leaders produce responsible engaged, and inspired employees. Delighted employees yield unmatched customer loyalty and unrivaled customer loyalty skyrockets business results.
Front-line service professionals will be the first to confirm that a smile changes everything. Genuine smiles and interactions have the power to inject happiness into the most discouraged customers. Even the Grinch's heart was able to grow three sizes after his loving experience in Whoville. Employees throughout the entire organization must proactively build happiness into their daily working life if they have any hope of energizing and inspiring others. Implementing small changes within yourself and your service culture can influence your success in so many wonderful ways. Let 2018 be the year that proves it.
2018 promises to be another terrific year at Donnelly Effect, LLC. We can't wait to build on our philosophy of happiness. Until then, remember to WORK HAPPY, be a good person and do great things! See you in January!


Want to BE MORE EFFECTIVE? Follow us on the journey:
Missed our 17 in '17 SPARKS? Check them out below!
ABOUT MIKE DONNELLY: With over 20 years of Disney leadership experience, Mike Donnelly, Chief Experience Officer (CEO) of Donnelly Effect shares his insights on Talent Selection and Hiring, Employee Onboarding, Customer Experience, Service Culture and Leadership-among others. Donnelly Effect is home of the exclusive "World-Class Workshop" series and offers consulting services and keynote addresses to audiences of all sizes and industries. Since 2007, Mike Donnelly has been a contracted Disney Institute Facilitator, delivering Disney customer service training to audiences across the United States.