Donnelly Effect delivers 17 in '17: 17 actionable SPARKS to ignite your team for better leadership, customer and employee experience and a better bottom line.
Your next big initiative roll-out, organizational change or daily update will fizzle without a communication campaign that fortifies expectation. EFFECTIVE COMMUNICATION helps build community and congeniality. Better yet, it's a strategy that

fosters employee empowerment and increased trust.
The next few Spark blogs will discuss our 5 C's of organizational communication, including why it is essential for creating buy-in and how it can revamp your current campaign to build better understanding within the groups that influence your success. The first C of any effective communication campaign strategy is "Comprehensive."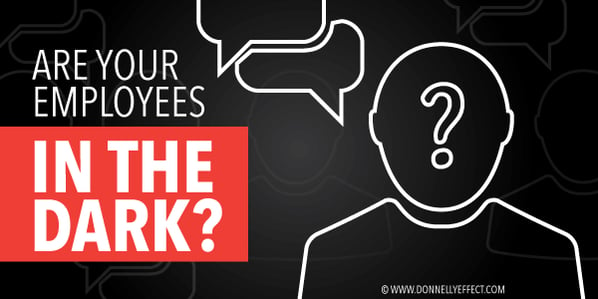 Building Employee Trust Through Comprehensive Communication
The most dangerous employee is the one who feels they are "IN THE DARK" — i.e. not privy to the same pivotal information given to top leaders.
Remember, change — both big and small — is uncomfortable for many, and employees who feel blind-sided and uninformed about everyday updates or organizational changes will wind up disengaged and non-committed. Leaders can assure wary employees with comprehensive communication deliveries that encompass all audiences, generate a key level of understanding, and outline a bigger picture strategy.
The What and The Why
Step one to developing a communication campaign is to make it comprehensive. Detailed, honest, and transparent communication strategies directly correlate to success because it leaves no stone unturned and no room for surprise. With comprehensive communication, employees will know why this change is being implemented, how it will affect them individually, and what they can expect moving forward.
Comprehensive message must-haves:

The big picture and the "why" behind it

What it means for me and what I can expect

Where have we been? Where are we going? What will be the impact?
Tell Me Again…and again…and again
Over-communicating is essential to effectively manage and support change.
So when you think you've thoroughly conveyed your message, say it again. Then communicate a little more…and one last time for good measure. The more you communicate, the more involved your team will feel.
Put yourself in the shoes of your employees. Does your explanation answer the questions your team is bound to have? Are you covering every key touchpoint needed to ensure widespread understanding? If not, it's time to add more detail.
Why You Need To Do This

NOW
Incomplete communication without the "why" will do more harm than good. Just like the office rumor mill swirls with half-truths and exaggerated assumptions when a departmental restructuring occurs without warning, restricted communication delivered with gaping holes in the message will plague employee morale and performance, affecting both employee turnover and ultimately your bottom line.
My time spent entrenched in the Disney work culture made me realize that most great Disney leaders do two things really well: they involve and they listen. Take the time to draft messages that cater to your staff's natural concerns and curiosity.
Re-examine your communication campaigns and ensure they contain the communication must-haves and essentials listed above.
The best part is that comprehensive communication campaigns are

low-cost

initiatives that

reap the best rewards.

It's the employees who feel prepared, empowered, capable, and cared for that will spark loyalty and ensure SUCCESS of your next initiative or daily update.
Stay tuned for our next blog when we share the 2nd "C" of effective organizational communication: consistency.
Want to BE MORE EFFECTIVE? Follow us to learn every 17 in '17:
Missed our previous SPARKS? Check them out below!

ABOUT MIKE DONNELLY: With over 20 years of Disney leadership experience, Mike Donnelly, Chief Experience Officer (CEO) of Donnelly Effect shares his insights on Talent Selection and Hiring, Employee Onboarding, Customer Experience, Service Culture and Leadership-among others. Donnelly Effect is home of the exclusive "World-Class Workshop" series and offers consulting services and keynote addresses to audiences of all sizes and industries. Since 2007, Mike Donnelly has been a contracted Disney Institute Facilitator, delivering Disney customer service training to audiences across the United States.