Donnelly Effect delivers 17 in '17: 17 actionable SPARKS to ignite your team for better leadership, customer and employee experience and a better bottom line.
At Donnelly Effect, we subscribe to one rule:
WORK HAPPY
In fact, we know we can't inspire organizations to be more effective with high-performing teams if we're not there ourselves. We've leveraged this philosophy to build a narrative that connects both rationally and emotionally within our entire team. We've taken this perspective and helped other companies tell a story that embodies the brand that differentiates them from other, lesser-inspired competitors. Why? Because it is what directly influences your bottom line.

We've dedicated the last three blogs to our 5 C's of organizational communication, demonstrating how comprehensive, consistent, and continual communication is your best fortifier of organizational changes or new initiative roll-outs.
But none of that matters if those messages are not hitting home with your recipients; hitting the proverbial heart and mind. To guarantee your statements are understood and internalized, you must customize. The fourth C of communication is "CUSTOMIZED" communication.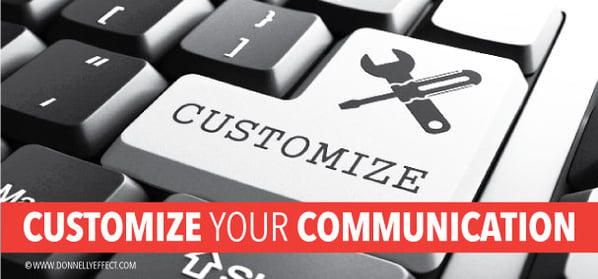 You spend so much time defining and perfecting your external marketing messages, so why not do the same for your internal communications?
We'll say it again: informed employees are essential to success. But empowered and inspired employees are your first-class ticket home. These types of employees are built and molded when they're constantly reminded of the "why" in everything they do — including communications.
BRAND YOUR MESSAGES
You can do this by ensuring all messages are branded appropriately and embody the spirit of the initiative. Lifeless, run-of-the-mill communications will sink your next initiative. Customized messages will soar.
Incorporating graphics for visual learners and audio bites for audio learners will go a long way in getting the message across to everyone; and wrapping it in a branded package will earn it the importance it deserves.
Don't waste your time on processed or conventional communications. All that'll do is ensure they go unseen and unheard by those who need them most. But a custom, branded message will resonate. My time spent with Walt Disney proved that your brand and spirt MUST be engrained in EVERYTHING you do. They wrote the book on storytelling, and you can too! Every change is backed with reason. Let your staff — at every level — in on the secret. Then, connect the change with a purpose.
SHARE THE "WHY"
You've likely spent countless manhours crafting, designing, and planning your next organizational change for two important reasons. One, you're certain the new initiative will reap greater rewards moving forward. Two, your current process is out-of-line, or contradictory, to your company's brand and mission. Both of these reasons must be shared with your entire organization if you have any hopes of connecting with your staff.
Be transparent when building your communication campaign. Tell your employees why the change is happening and what changes and improvements they can expect in their day-to-day dealings. Most importantly, they must know how the initiative supports the overall mission. The more your light you shed on this change — in an honest, spirited, and positive way — the better equipped your team will be to handle any future road blocks your roll-out may encounter.
When it comes to guaranteeing SUCCESS during change, there's nothing more powerful than a
CUSTOMIZED

message.
Want to BE MORE EFFECTIVE? Follow us to learn every 17 in '17:
Missed our previous SPARKS? Check them out below!
ABOUT MIKE DONNELLY: With over 20 years of Disney leadership experience, Mike Donnelly, Chief Experience Officer (CEO) of Donnelly Effect shares his insights on Talent Selection and Hiring, Employee Onboarding, Customer Experience, Service Culture and Leadership-among others. Donnelly Effect is home of the exclusive "World-Class Workshop" series and offers consulting services and keynote addresses to audiences of all sizes and industries. Since 2007, Mike Donnelly has been a contracted Disney Institute Facilitator, delivering Disney customer service training to audiences across the United States.