When a service misstep occurs, it's easy to place blame on front-line employees. After all, they're the ones with direct contact with the dissatisfied customer. When faced with an opportunity to correct a situation, leaders often asses blame and administer corrective action in the form of "don't do this, do that."
The problem with this method is that it's entirely possible those employees were modeling the behavior they believed to be appropriate based off what they observe from their leaders.
Frontline team members watch the behavior of leadership more than leaders realize.
They listen with their eyes more than their ears, and internalize the example leaders set more than the words they use. Therefore, leaders have more control and influence than they think. Creating a culture of service within your organization begins and ends with the leaders.
Leading by example
As a leader, it's not enough to simply talk the talk. Leaders have to practice what they preach. For example, if you want your employees to stay off their cellphones when "on stage", then you must do the same. If you want your employees to greet everyone with a smile, then you must show your pearly whites, as well.
Leaders should model the service they EXPECT from their people when interacting with customers. The front line will copy their example – kind of like a game of Simon Says.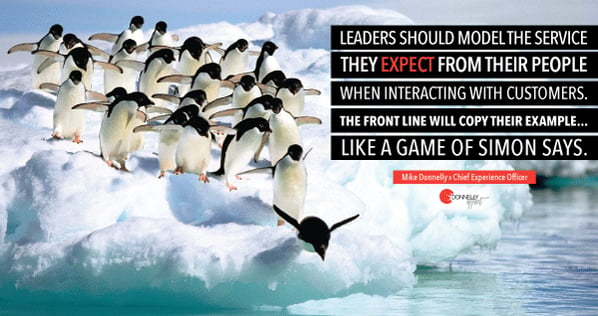 Imitation is only flattering when it's done in a positive light – in a way that sky rockets customer interactions beyond expectation. What type of behaviors are you exhibiting that are being internalized by your team?
"It's not you, it's me"
Leading by example is a practical service strategy, but only when it is genuine. Everyone from security and housekeeping to retail and service representatives have customer exposure and would benefit from intentional leadership methods. Employees crave evidence that both their leaders and the organization mean what they say. By giving clear signals about your expectations, you forge a culture of clarity, fairness, and consistency within your team that manifests itself in the service they provide.
Therefore, leaders must behave in a manner that is above reproach, meaning their behavior can never be questioned by those being led.
When there's a kink in your service culture armor, look first to yourself to see what attitude you're displaying that your employees might be mirroring. The phrase, "it's not you, it's me" applies here.
Know that, as a leader, you are the moral compass all front-line employees consult for direction. It will be ill-favored characteristics that spark dangerous levels of distrust and disloyalty within your organization, but it'll be your actions that are most influential in building trust and creativity.
Take a moment to think about how you can be more intentional in your leadership approach. When you become your team's inspirational vision, you'll be delighted in how such a small shift in thinking can make such a large impact overall.
---
Want to BE MORE EFFECTIVE? Follow us on the journey:
ABOUT MIKE DONNELLY
: With over 20 years of Disney leadership experience, Mike Donnelly, Chief Experience Officer (CEO) of Donnelly Effect shares his insights on T

alent Selection and Hiring

, Employee Onboarding, Customer Experience, Service Culture and Leadership-among others. Donnelly Effect is home of the exclusive "World-Class Workshop" series and offers consulting services and keynote addresses to audiences of all sizes and industries. Since 2007, Mike Donnelly has been a contracted Disney Institute Facilitator, delivering Disney customer service training to audiences across the United States.