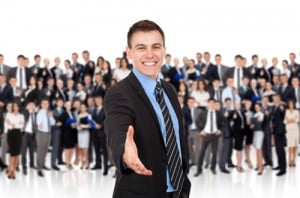 What is New Employee Orientation?
5,148,000 people were hired across the US in December 2014. What's more important is that theoretically, 5,148,000 people were onboarded- or participated in their organization's New Employee Orientation- in this, or any given month across the United States. With such high potential opportunity for activity and impact, what exactly is New Employee Orientation, or (NEO)?
NEO is the process through which new employees become introduced to the social, cultural and performance norms and expectations of their new organization. There are varying degrees of effectiveness, length and content for NEO programs yet generally it is a structured process to welcome new employees.
NEO officially begins just after the employee accepts a job offer and ends at the handoff to new employee's supervisor. This is usually about 2-3 weeks from the job offer until the employee's first day of work when the employee attends anywhere from 1/2 day to 2 days of orientation before moving into their job role. New employee orientation typically includes:
Learning about policies and procedures

Completing paperwork: I-9 forms and W-2 forms

Presentation of benefits

Learning about the organization

Meeting the department heads

Touring the offices or facility
How does NEO compare to Employee Onboarding?
NEO is a key element of the larger Employee Onboarding process: assimilating an employee into an organization and their respective department and role. Employee Onboarding is usually a 30-90 day process that takes employees through their 60 or 90 day probationary period and includes:

New employee orientation (day 1 and/or 2 of new employee's tenure)

On the job training

Working with a mentor or trainer

Check-outs based on role

Reviews at specified time periods

Transition out of probationary period

Begin working independently
The importance of NEO is often overlooked yet it's effectiveness is measured directly through employee retention, employee engagement, turnover costs, service metrics and customer loyalty. When more effective NEO's are designed and executed as part of Employee Onboarding, the new hire numbers cited above will be less of a result of turnover and more a result of organizational growth!
For a FREE diagram of the New Employee Onboarding Process, please download below!
Additional resources:
ABOUT DONNELLY EFFECT: With over 20 years of Disney leadership experience, Mike Donnelly, Chief Experience Officer (CEO) of Donnelly Effect shares his insights on Talent Selection and Hiring, Employee Onboarding, Customer Experience, Workplace Culture and Leadership- among others. Donnelly Effect is home of the exclusive "World-Class Workshop" series and offers consulting services and keynote addresses to audiences of all sizes and industries. Since 2007, Mike Donnelly has been a contracted Disney Institute Facilitator, delivering Disney training to audiences across the United States.