Donnelly Effect delivers 17 in '17: 17 actionable SPARKS to ignite your team for better leadership, customer and employee experience and a better bottom line.
In our last blog, I committed to providing and encouraging you with ACTIONABLE STRATEGIES you can implement with your team this year. So grab your coffee cup, settle in, and let's get started, shall we?
PICTURE THIS: Your team is mid-way through a tough week and the winter blues are creeping in. One look at your employee's faces shows you that morale is down and stress is high. If these feelings aren't addressed soon, Billy in Customer Care might blow a fuse. Sound familiar?

When employees are running low on motivation, productivity suffers. How do you bring the big picture back into focus? It can take months to install effective procedures that motivate employees. Yes, we know you need to support your employees, give them an outlet for concerns, and promote development within the company, but what can be done right away to inform and support your team?
Great leaders work to improve communication in the form of a pre-shift huddle.
Huddle Up!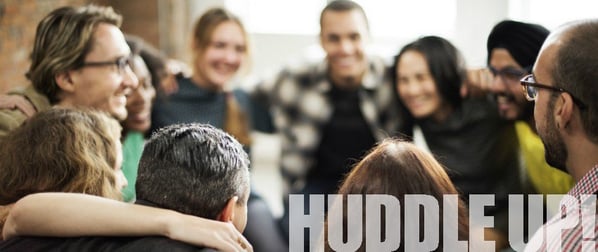 Gathering employees in one location before work begins allows you to:
Set the tone
Convey information
Articulate your vision
A quick 10 minutes is all you need to start a conversation. Not only can you discuss industry-related topics, but you can share company updates, project timelines, and important milestones, that affect the team. This is also a great opportunitity for leaders to hone their storytelling skills, helping teams envision success and put depth behind their tasks and purpose.
Why This is Effective
Positive Culture: A good leader knows that the best way to support their employees is to make them feel heard. Huddles provide a great opportunity to engage with each other while also creating a meaningful company culture. A few minutes to vent, or the opportunity to ask questions and receive recommendations, will help build and maintain inspired service professionals on the front line.
Build Trust: These huddles build trust between managers and their staff. When employees receive information from their front-line leader, they feel supported and thrive in a way that other teams without collaborations would not. A huddle that breaks regualr routine and changes the scenery is a welcome reprieve from their repetitive processes.
Employee engagement: Employees whose core emotional needs are met are often the most engaged, loyal, and productive. Time to share the problems they're facing paired with a conversation about satisfying those core needs is the first step to guaranteeing a positive customer experience. In my time as a Disney leader, trust me when I say: engaged and happy employees are the best employees.
By creating opportunities that SPARK employee input and set expectations, you'll send your employees out ready to deliver a positive customer experience to every client. Invest your time and resources in pre-shift huddles with your team NOW!
Want to BE MORE EFFECTIVE? Follow us to learn every 17 in '17:

ABOUT MIKE DONNELLY: With over 20 years of Disney leadership experience, Mike Donnelly, Chief Experience Officer (CEO) of Donnelly Effect shares his insights on Talent Selection and Hiring, Employee Onboarding, Customer Experience, Service Culture and Leadership- among others. Donnelly Effect is home of the exclusive "World-Class Workshop" series and offers consulting services and keynote addresses to audiences of all sizes and industries. Since 2007, Mike Donnelly has been a contracted Disney Institute Facilitator, delivering Disney customer service training to audiences across the United States.