A COVID-19 Checklist ☑️
Consider these post COVID-19 return to work guidelines for employers to ensure your workspaces are safe and that your employees feel assured coming back to the office.


Welcoming back your employees after a period of upheaval will need careful planning. But leaders can minimize risk and calm fears by adhering to the very foundations on which your business strategy was built. For example, workplace safety has always been, and will continue to be, a top priority – as will clear, transparent communications and a heart for service.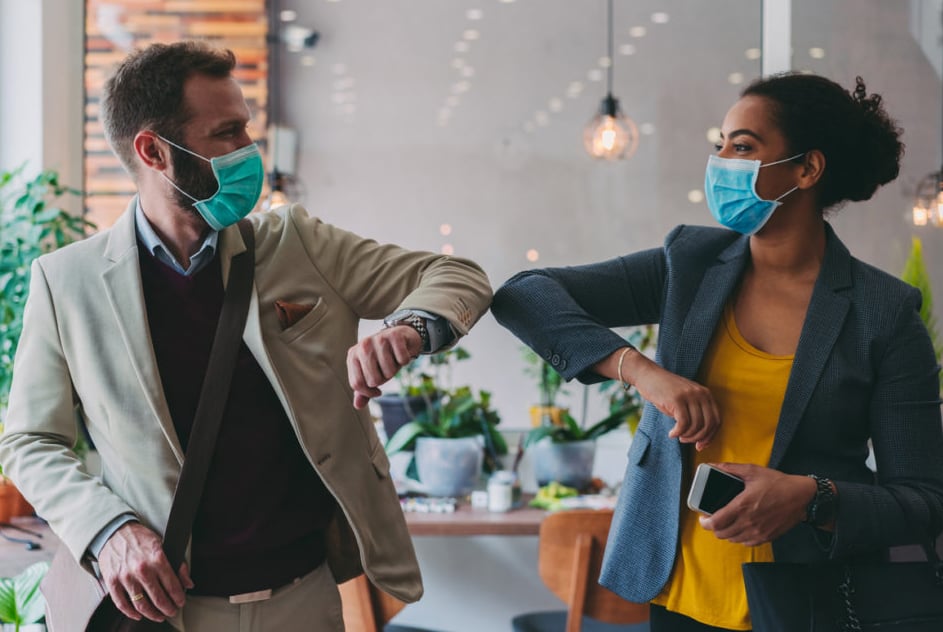 Lean on these same pillars to provide guidance on when employees should return to work and what they can expect when they get there. Here are a few ways to gauge your readiness to reopen and reassure your team that their leaders are implementing the proper measures to safeguard staff members and customers.
1. How will you ensure healthy employee morale?
Commit to a people-first mindset that acknowledges the fears and the pandemic's effect on your people. Then, craft your messaging to benefit your people first and your organization second. The steps you take to reopen should be communicated upfront and candidly, and with empathy. By simply remembering that your employees may feel deflated physically, spiritually, and financially will go a long way toward building trust and boosting morale at a time when inspired organizations matter most.
Things to consider:
Communicate frequently and share honest updates with your workforce
Prioritize celebrating wins and milestones, even in chaos
Set aside time for workers to speak with and check in with their managers or supervisors.
Reinstate wellness programs and cultural initiatives gradually as safety guidelines permit
2. How will you address health and safety concerns prior to opening?
Share your strategy for creating a safer work environment prior to opening so employees feel comfortable returning to work. Include your return to work process, new policies and/or trainings to expect, and your promise to protecting workers and customers.
Also communicate updates in preparation, changes to your work environment, and overall workforce management practices. By designating one point person or a small team to coordinate and communicate these steps, you'll ensure consistency, clarity, and competency.
Things to consider:
Remind employees of benefits and additional wellness services offered
Request feedback via anonymous surveys to gauge what will make employees feel most at ease during the reopening phase.
Have an action plan if an employee or worker tests positive/presumptive positive for COVID-19
3. How will you adapt your work environment to remain safe and compliant?
It is a given that your workspaces will change in order to comply with applicable social distancing mandates, such as moving workstations or altering layouts and access points. But, make it a point to also share what will not change and what will remain the same during this time. For example, your method for daily stand-ups might change, but your dedication to your customers will reign supreme, as will your commitment to your employees.
Things to consider:
Introduce the capability of virtual meetings and online learning
Implement staggered shifts and/or staggered scheduling
Offer free masks, hand sanitizer, and disinfecting wipes throughout the office
Place appropriate limits on size of in-person meetings and proximity of seating
Provide a HEALTH SCREENING CHECKLIST card to all team members. Mike Donnelly shares a helpful example in the video below!
4. How will you involve and educate employees on their role in promoting safety on-site?
Include in your plans to reopen how your team members can contribute to its success once back at the office. Align everyone under one mission to work happy and healthy by brainstorming ways employees can feel empowered to promote safety on their own. Plus, employees who feel heard and included are more likely to inspire long-term change.
Things to consider:
Provide health screening & symptom checklists (check out our example in the video above!)
Print and advertise health and safety reminders promotional material
Establish communication channels for employees to address concerns
One more thing…
Flexibility is key. Now more than ever, workplaces will need to remain flexible and adaptable to their workers to account for outside circumstances, such as caring for a sick loved one or contending with a need for at home childcare. Use these circumstances to be more creative in your approach and be willing to allow people the opportunity to adjust their work practices to suit their evolving needs. Show that you trust them to get the work done.
Remember, when employees feel cared for and supported by their leaders, magic happens. Now is the time to protect your people and lead with intention, using these post COVID-19 return to work guidelines for employers.
How are you prioritizing a safe and responsible return to work policy in your organization? Let us know in the comments.
Additional Resources:
---

Want to be more EFFECTIVE? Follow us on the journey:
Mike Donnelly is a recognized expert, keynote speaker, facilitator and consultant in customer service and leadership development. Leveraging 20+ years of experience from The Walt Disney Company, he and his team help destination location clients and clients in various customer-facing industries create customer loyalty to achieve positive business results. Learn more at www.DonnellyEffect.com.