Almost every leader HATES doing annual reviews. There, I said it.
Way back when, companies built performance reviews into their processes because, in principle, they were an opportunity to coach employees, give feedback, and set goals for the future. Best case scenario, the team would also leverage them as a platform for both parties to catch up, chat, and build rapport.


In reality, annual reviews are things we all dread. Managers resent them and employees fear them. Yet, for many, they've become mandated motions you must schedule and look discernibly at on your calendar until they arrive.
But what if, as a leader, you could change the narrative? Instead of burdening your team with something you hate, what if you transformed them into less of an assessment and more of a coaching conversation?


The "1 to 5" review rating system is old school.
Defining a year's worth of work by "exceeds expectations" or "meets expectations" is limiting and hardly indicative of the achievements or progress made over your last four quarters. This process makes people bitter and feel unappreciated.
Worse, teams can't afford unenthused employees in the current employment market. Younger team members are more apt
to simply disengage, refresh their resume, and go elsewhere if they disagree with their performance assessment.
And therein lies the problem. "Performance assessment." (See also: performance review.) This phrase means nothing.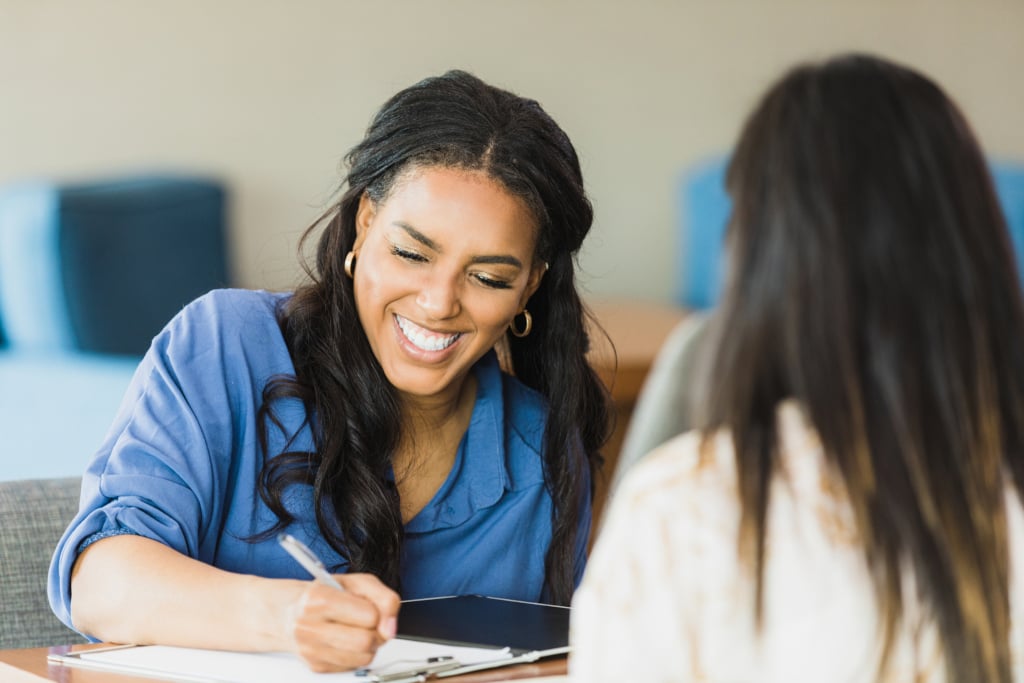 Let's stop doing performance assessments.

Instead, let's create real-time feedback loops and development dialogues built around coaching, not rankings. Think about it: Two-way streets are much more efficient (and convenient) than one-way roads. Just like two-way conversations are much more productive than one-way presentations.
So, consider reworking your review process to focus on maximizing and celebrating strengths. Try these new approaches to ensure you have an effective conversation with your employees:
1. Give more frequent feedback.
Making space for regular feedback conversations—versus the traditional annual review—helps individuals maximize their strengths, quickly close gaps, and drive learning and development in real-time throughout the year—the more informal, the better.
2. Set future goals (and build on previous ones).
Regular check-ins allow for growth and progress at all levels of the organization. Instead of nitpicking areas where people fall short, you can address roadblocks, questions, or concerns that help move projects along.
3. Celebrate strengths.
Replace rankings with dialogue that focuses on maximizing the unique skills present among all team members. Ask employees what they like best about their current role and what they want their next role to look like. Then, draft plans to coach them up and serve your organization in an even greater capacity. (This is also a great way to motivate low-performing employees.)
4. Prioritize support.
Find ways both parties can leave conversations feeling more capable and motivated than ever. Identify what each person needs to "work happy" and, for employees who are struggling, define ways you can help them get back on track as a leader.


Remember, leveraging your employee's strengths is much easier than fixing weaknesses. It also increases engagement and your bottom line. Find ways to focus on growth, planning, and support. You can start with coaching conversations.


Done right, they will engage and motivate employees. Done wrong, you could send employees down a spiral of disengagement, resentment, and decreased performance. Open and transparent communication is key. How will you implement a new performance system this year?
---

Want to be more EFFECTIVE? Follow us on the journey:
Mike Donnelly is a recognized expert, keynote speaker, facilitator and consultant in customer service and leadership development. Leveraging 20+ years of experience from The Walt Disney Company, he and his team help destination location clients and clients in various customer-facing industries create customer loyalty to achieve positive business results. Learn more at www.DonnellyEffect.com.