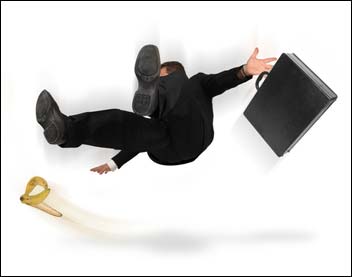 What Are Your Customer Experience Fails?
Going to the grocery store- it can be an unbelievably pleasant experience, or one thatis like running nails across a chalkboard. It depends on your perspective- is shopping a luxury or a chore? Most retailers go to great lengths to create farmers-market, fishing wharf and French cheese-shop type experiences to win customers over and be the store of choice in their community, thus appealing to luxury and chore shoppers. This customer-centric approach is admirable; yet can be undone in one instant when the customer sees- or smells- the wrong thing.
Whether you are shopping for sundries, shallots or steak, almost all of us have seen (and smelled) a group of employees taking their smoke break out in front of the store. Sure- they are outside- that's good- but outside at the store entrance where your customers first experience your brand? This is a customer service fail.
How can an organization protect their precious investment in customer experience and overcome this and other potential customer experience fails? One of the most effective strategies is to anticipate and proactively plan for them.
Download our Fix Your Customer Experience Fails [TEMPLATE]
We can anticipate that employees are going to smoke, so we should proactively prepare for it. Rather than leaving the smoking location to chance, create an area for employees to smoke that is outside of customers' view...and smell.
Here is another example of anticipating and proactively preparing to preserve the customer experience:
Male Walt Disney World cast members (employees) must be neatly shaven. Certainly, the occasional cast member will show up for work with a 5 o'clock shadow. This is anticipated- they are working with humans after all...so what does WDW do to overcome this? They have provided vending machines with items like toothbrushes, toothpaste, and of course- razors and shaving cream- in cast areas. Sending the cast member home or allowing the cast member to work anyway would compromise their guest experience.
Anticipating and preparing for situations like these keeps everything running smoothly for customers and employees. How does an organization begin to anticipate what situations may be compromising their customer experience?
In identifying these potential "customer experience fails", a
wareness is half of the solution; once aware of the issues- they usually can be fixed easily:
Focus on your top customer and employee complaints

Identify what issue you have to solve

Design a creative and proactive solution
Where are you failing in your experience? Gather your team and facilitate through the above exerciseto begin the process of creatively and proactively providing solutions to your biggest potential fails.
To make it easy, download the Fix Your Customer Experience Fails [TEMPLATE] below and work with your team to turn your potential customer experience fails into delightful customer experiences!
ABOUT DONNELLY EFFECT: With over 20 years of Disney leadership experience, Mike Donnelly, Chief Experience Officer (CEO) of Donnelly Effect shares his insights on Talent Selection and Hiring, Employee Onboarding, Customer Experience, Workplace Culture and Leadership- among others. Donnelly Effect is home of the exclusive "World-Class Workshop" series and offers consulting services and keynote addresses to audiences of all sizes and industries. Since 2004, Mike Donnelly has been a contracted Disney Institute Facilitator, delivering Disney training to audiences across the United States.