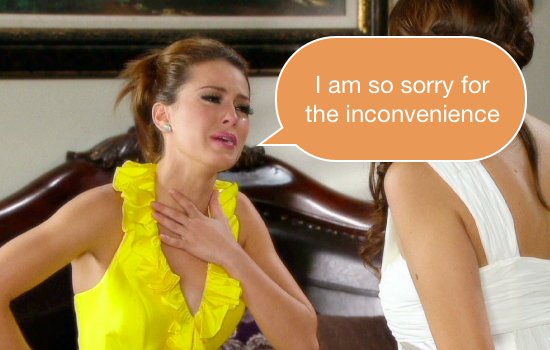 At Disney it's "Have a magical day!"
At Chick-Fil-A it's, "My pleasure!"
If it's done well, scripting your employees can be a great tactic to strengthen your brand and boost your customer experience; like putting a bow tie on each customer interaction...If it's done poorly it can make a customer interaction stale and fake; and we've all been subjected to that (think telemarketers).
Donnelly Effect has researched and identified the 10 most desired customer experience (CX) traits. Of these, consistency is one of them. And we know that scripting drives consistency. But, scripting also has the potential to fight against courtesy and professionalism- two more of the 10 most desired CX traits.
So, how do you improve consistency without sacrificing courtesy and professionalism?
Here's what to avoid in your employee scripting:
Long pages of reading that begin with "insert your name here"
Artificial verbiage that does not keep the interaction in context and personal (see blog photo)
A "read this every time" mentality that does not address WHY we're asking service providers to script their words
Little or no training around the delivery of the script i.e. voice inflection, eye contact, etc.
Also, consider these scripting ideas during training:
Ask employees to identify great examples of scripting in real time
Identify what makes the great examples great
Allow the employees to have input in the creation and constant improvement of scripting
Scripting can be an effective method for employees to deliver consistent, professional and courteous customer service while supporting your brand and building customer loyalty. Involve your team, share the "why", and practice and improve regularly for scripting to reach its full potential for your employees and your customers.
-THE END-
Customer experience is also delivered through messaging on your website, on signage at your location and through electronic means such as email and letters. Be sure your messaging has passed the customer experience test. Download our [FREE Checklist] to learn more!
ABOUT MIKE DONNELLY: With over 20 years of Disney leadership experience, Mike Donnelly, Chief Experience Officer (CEO) of Donnelly Effect specializes in helping organizations build customer loyalty through organizational, leadership and employee development. Donnelly Effect is home of the exclusive "World-Class Workshop" series and offers consulting services and keynote addresses to audiences of all sizes and industries. Since 2007, Mike Donnelly has been a contracted Disney Institute Facilitator, delivering Disney training to audiences across the United States.