A message for you and tips for writing a holiday party toast that's as festive as the halls you've decked!


The Christmas season is my favorite time of year. Sparkly lights, classic movies, Christmas parties…what's not to like? But I also get a little nostalgic in December.
As I sat down to write you this message wrapping up 2022, I thought about what I'd say if our small but mighty team hosted you at a holiday party. I'd want to thank you. I'd want to shake your hand. I'd want to tell you how much I enjoy talking with each and every one of you when we're training, learning, and building. Then, it occurred to me that you, too, might want to express these same feelings to your organization.
If you're hosting a company holiday party, the toast is a perfect moment to address your teams. But before you go tell it on the mountain with your glasses raised, make sure you construct a meaningful message that inspires. Done right, your holiday toast sets the mood—a night for people to rejoice, give thanks, spread joy, and be merry.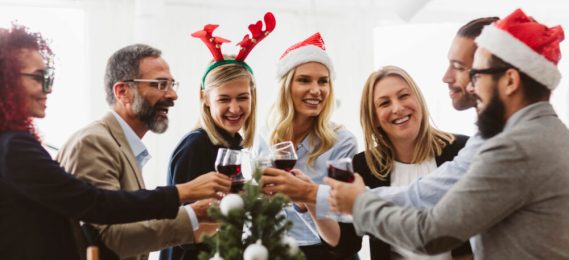 The Embodiment of Good Cheer

Open with a warm, hearty welcome—and really mean it. Highlight the significance of the gathering and express your genuine excitement for the opportunity to celebrate a job well done. Remember, these speeches are meant to be joyous, so keep yours short, sweet, and upbeat.
Next, thank your teams—and really mean it. If your guest list is small enough that time permits, thank each department head and each staff person within that department for their hard work this year. If you're addressing a larger organization, thank each department, praising a specific win the team accomplished relating to the company's overall goals.
Finally, end with your message of hope for the new year. What do you hope to accomplish next year or build on from the previous one? At Donnelly Group, we want to create new opportunities to engage with organizations and double down on our belief that inspired customer experiences make all the difference. In your organization, spend thirty seconds describing your vision and hope for the new year.
This framework will suit most company party speeches. But your holiday toast must strike a different note. It needs a little Christmas.
The Spirit of Christmas Binds Everyone Together

Your holiday toast is an opportunity to get personal. Forgo the formal niceties—you're talking to the heart and soul of your organization. As you prepare to thank your employees and send them on their merry way, remember to speak from the heart. After all, isn't that what the Christmas spirit is about?
While we're busy infusing cheer into this one evening, what do you say we carry the Christmas spirit with us into next year? What if, from now until forever, we become the embodiment of good cheer, gift givers, moral watchmen, and symbols of home and safety?
This is my virtual toast to you and the approach we're taking with us into the new year. A sense of community and genuine gratitude we can foster within ourselves and the people around us every day. Maybe you'll do the same?
From all of us at The Donnelly Group, thank you. We really mean it. May your celebration and your new year be filled with hope, joy, and goodwill.
Cheers!
Mike Donnelly
---

Want to be more EFFECTIVE? Follow us on the journey:
Mike Donnelly is a recognized expert, keynote speaker, facilitator and consultant in customer service and leadership development. Leveraging 20+ years of experience from The Walt Disney Company, he and his team help destination location clients and clients in various customer-facing industries create customer loyalty to achieve positive business results. Learn more at www.DonnellyEffect.com.