Our New Focus
Take a look inside our brand new re-imagined website that showcases how we help organizations conquer their most pressing issues.


It's a new world and, like many of you, we have adjusted to meet the demands of it. Amidst the greatest global crisis of our lifetime, our team spotted a small silver lining – one that highlighted our resiliency as people and presented an opportunity to leverage our expertise for new successes and opportunities.
We used this time to reflect on our processes and brainstormed how we could better serve companies in their quest for customer satisfaction, employee engagement, and organizational success. The result? Streamlined processes, new training delivery methods, and key technology enhancements.
Of course, those revelations warranted a need for a sleek, new, totally re-imagined website that walked the walk and talked the talk.
And while the website is brand new, the decision we made in the early days of the company remained untouched:
We will stay relentless in our pursuit of inspired customer and employee experiences.
Let's dive into some of our newest website features designed to help resilient organizations thrive through 2020 and beyond. Like I used to say as WDW's Jungle Cruise skipper, "It's time for a tour"...
Professional Development, Front and Center
Professional development trainings simplified – that is, the same effective workshops repackaged into topics executives, management, and front-line employees can leverage right away:
Check it out! Our trainings are now listed in "buckets" making it easier for you to prioritize your training needs. Whether you select Talent Selection & Hiring or People Management, your teams will leave equipped with real-life examples and actionable solutions to incorporate right away in your organization!
Engage at Every Level
Flexible training delivery methods to meet the needs of your organization, wherever they are:
We're opening our doors and rolling out new tools for organizations to shape a culture of service...from anywhere! These will be the solutions that power the next wave of professional training and learning.
Each of our executive leadership, manager and front-line employee training topics is now available as a 1-hour keynote address, full-day workshop, 3-day seminar or online training [check out a SAMPLE of our online training].
Resources to "Happy"
A heightened focus on inspiration and emerging industry trends. Our new website rollout also streamlined how we deliver instant access to helpful tips and resources that your organization can use to create customer loyalty by preparing people to work happy, right now!
We truly believe the best is yet to come. And we hope you do, too. Remember that your customers are only as happy as your employees. Carve out some time to nurture the team around you so they feel inspired and energized to tackle what lies ahead.
While you do that, we'll be over here making heart eyes 😍 at our new homepage: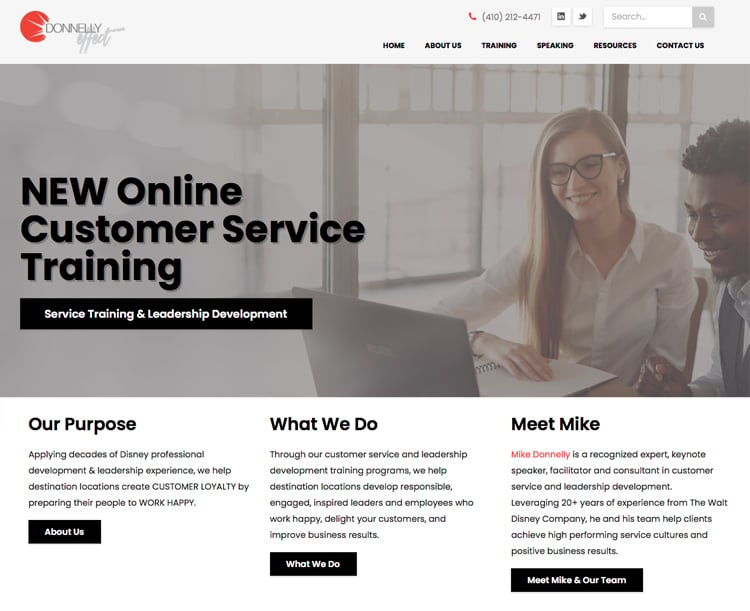 We want to know, what is your favorite part of our new website design? Comment below!
---

Want to be more EFFECTIVE? Follow us on the journey:
Mike Donnelly is a recognized expert, keynote speaker, facilitator and consultant in customer service and leadership development. Leveraging 20+ years of experience from The Walt Disney Company, he and his team help destination location clients and clients in various customer-facing industries create customer loyalty to achieve positive business results. Learn more at www.DonnellyEffect.com.