I often hear in my consulting and facilitation sessions that leaders are having difficulty keeping their customer service message fresh. They need new language to communicate to their teams in support of the customer service message.
Their staff has been trained and they know what their leaders (and customers) expect from them. Leaders try to explain and support these expectations frequently-but, how many times can you simply remind your staff to smile, welcome your customers, be friendly, anticipate their needs, etc., etc., etc., blah-blah-blah…? Front line leaders have run out of ideas and ways to communicate their service expectations to their teams. After a while, the same message becomes mundane and people think, "I already know that- that's fine…I get it!" It was Albert Einstein who defined insanity: doing the same thing over and over again and expecting a different result. Are you becoming insane? Do you need to spark new, fresh methods of communicating and inspiring your staff? If your staff hears the same message in a different way- perhaps through new stories, they begin to better understand and think, "WOW I can do that!" Or, "Yes-I can relate to that!" This leads us to storytelling. Storytelling is frightening to some people- and seemingly impossible to most. We are here to tell you that you absolutely can do it. With a few pointers and a little thought- you will be off and running in no time; telling stories that will:
Inspire your staff
Change their perspective on their roles
Visualize excellence
Execute skillfully
I am a storyteller to my children. Every night they want a new, engaging story. It is my goal to teach life lessons and inspire great behavior through the stories I tell my kids- not unlike the goal a leader may have for the stories they tell. So, after several years of recalling stories from my youth, I decided to begin with the end in mind. I identify the principle I would like to communicate and build the story around it.
So, for leaders trying to inspire customer service behaviors, instead of saying things like: we want you to be friendly to our guests and welcome them; you could illustrate a story of what that looks like. The story could be told about an employee that did a great thing, or from the point of view of the customer and what they experienced.
For example: it was a very busy day at the restaurant- it was Father's Day and many people were celebrating at the annual Father's Day brunch. Julia, the hostess, knew that she wanted each guest to feel special when he or she entered the restaurant rather than being treated as "just another dad" or "just another family". So, as each family checked in she asked them how long the dad had been a dad – before long, families overheard each other and were celebrating the years- whooping for the longest dads and congratulating the new ones. Not only did Julia make each dad feel special, she created a welcoming and fun atmosphere for all of her guests. (This same story could be told from the point of view of a dad – and how it made his day because…) So, this story had the six critical components of an effective story:
Begin with the end goal in mind
Set the stage
Make it relevant
Share an idea
Give it color
Tie behavior to results
When you begin to tell stories and get a few under your belt, it gets fun and very powerful. Creating the imagery in people's minds is proven to be effective and memorable. My kids still ask for certain stories, remembering the lessons learned and are able to identify the lessons at appropriate times , thus being aware of, and improving their behavior. You can do this too- in your personal and professional lives. The power of stories is immense. Disney is notorious for using story to move cast memebrs and guests. Also, take a look at how Chick-Fil-A uses the power of story to communicate their message to their employees- from the customer point of view. You never know what difference you may be making in a customer's day. Storytelling ignites a leader's ability to communicate this to their staff and makes each employee's purpose greater.
Learn More:
Think Storytelling is Fluff? Think Again!
Download our 8 Minute Story Builder below and begin to create your own stories that will inspire your staff and drive desired behaviors!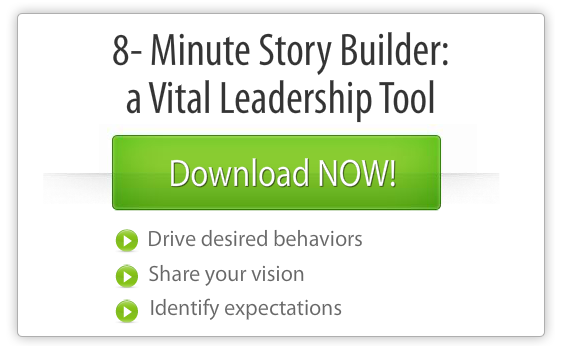 ABOUT DONNELLY EFFECT: With over 20 years of Disney leadership experience, Mike Donnelly, Chief Experience Officer (CEO) of Donnelly Effect shares his insights on Talent Selection and Hiring, Employee Onboarding, Customer Experience, Workplace Culture and Leadership- among others. Donnelly Effect is home of the exclusive "World-Class Workshop" series and offers consulting services and keynote addresses to audiences of all sizes and industries. Since 2004, Mike Donnelly has been a contracted Disney Institute Facilitator, delivering Disney training to audiences across the United States.