The 4 levels of engagement and how to recognize a highly engaged workforce
Engaged employees are the foundation of a high performing operation. But employee engagement is not the same as employee satisfaction or happiness. It is possible to have

"

satisfied" employees — happy to arrive at 9 and leave at 5 every day — who are not at all engaged in their work.


Real engagement requires an emotional commitment. A truly engaged employee not only understands their role, but they believe their role to be a vital part in reaching the goals of the company. Organizations that implement methods to encourage these kinds of employees usually win the war on talent. They also enjoy significant improvements in all other areas of business.
Where your people land on the employee engagement scale depends on many factors such as their onboarding experience, their leader, their effect on organizational results, and their relationship with their customer.
It's not enough to measure employee engagement with a simple "yes" or "no."
There are actually four levels of engagement by which to assess your teams, each marked by signs and signals that suggest you are nurturing a high functioning workforce who have subscribed to your mission, values, and organization.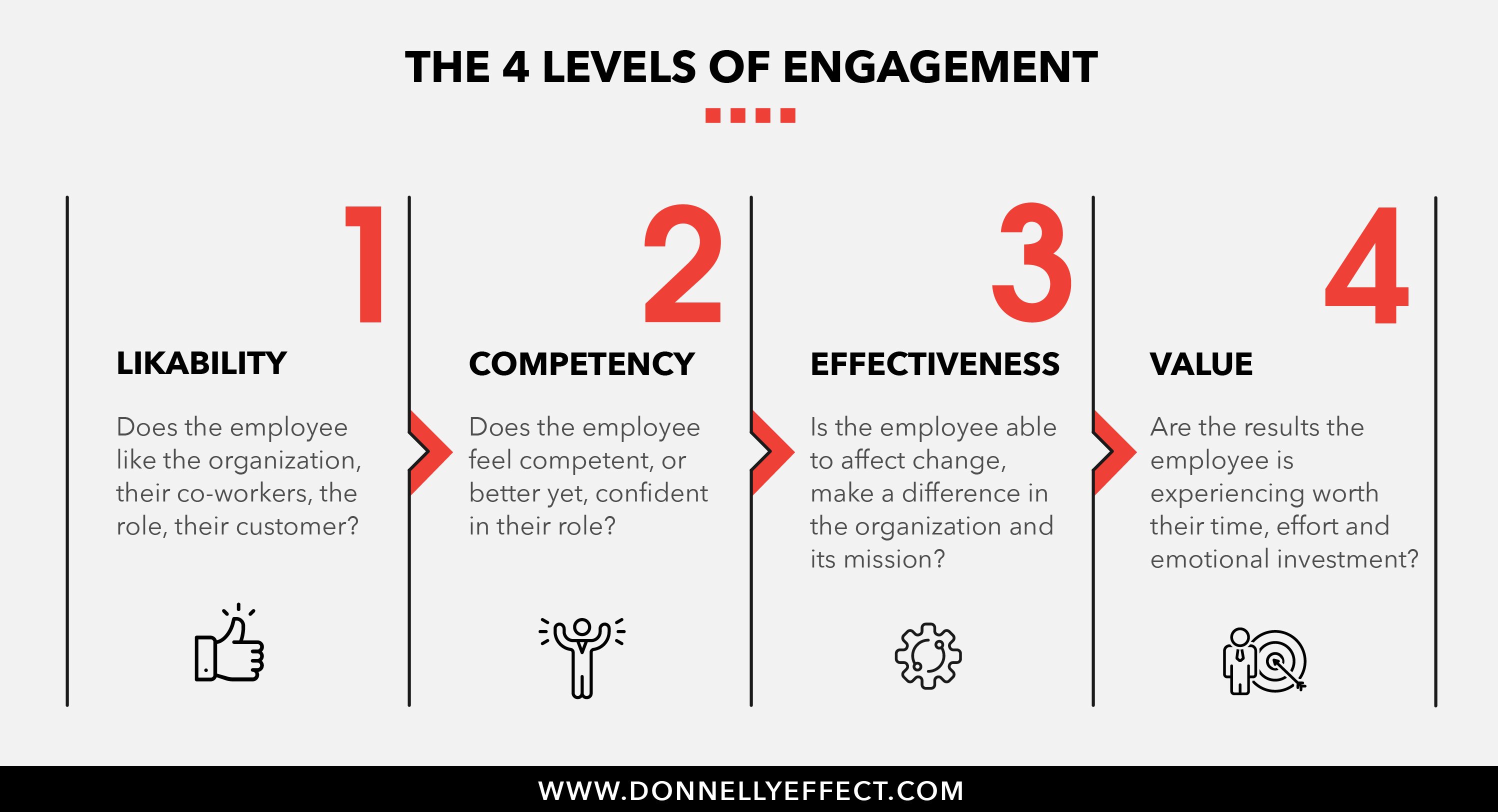 1. Likability: At the very least, your people generally believe in the mission and vision. Their outlook is positive, they show up as expected, and they are focused on their work. Here, there is more to be done to maximize potential.

2. Competency: As seen in a majority of your people, they are able to perform their roles effectively and confidently. This is a respectable feat but achieving true engagement will require extra focus on "connection" to inspire and motivate your teams!

3. Effectiveness: In an active sign of engagement, your employee's efforts will result in a noticeable change in behavior, and their efforts to improve the organization will be recognized. Is the employee providing value to the organization? Here, you will have built up employees fueled by purpose, reliability, and competency.

4. Value (Return on Investment): At the highest level, employees will deem their role in the organization worth their time, effort and emotional investment: is the organization providing value to the employee? If so, you have succeeded in developing an organization of all-stars who are easy to lead, inspire others, and simply "get it."
If we are to raise the bar on employee expectations, then we must also raise the bar on our employee and leadership development. It starts with a more robust onboarding program.

It is worth noting that the concept behind the four levels of employee engagement can be applied not only to your employees, but also your customers, your training initiatives, your reward programs, etc. Heck, we're even measuring engagement on our new website! No matter our initiative, let us all vow to strive for nothing less than engagement level three (effectiveness) or four (ROI) in everything we do!
Coming Up...
Up next week, a look into effective new employee onboarding programs. Learn how to properly inspire and engage new employees using three proven strategies for establishing authentic connection. Until then, consider this:
Does your current program do anything to move the needle on the engagement scale?
---

Want to be more EFFECTIVE? Follow us on the journey:
Mike Donnelly is a recognized expert, keynote speaker, facilitator and consultant in customer service and leadership development. Leveraging 20+ years of experience from The Walt Disney Company, he and his team help destination location clients and clients in various customer-facing industries create customer loyalty to achieve positive business results. Learn more at www.DonnellyEffect.com.