Donnelly Effect delivers actionable SPARKS to #WorkHappy, using HAPPINESS BY DESIGN to shape and reinforce a culture of service.
When we consider the benefits of humor in the workplace, it's easy to make a business case for LAUGHTER. Our brains have little trouble finding things to worry about. Stress levels increase and attitudes plummet when worries wander. Leaders should consider using HUMOR as a buffer against these damaging employee behaviors before they plague your customer experience and your

BOTTOM LINE.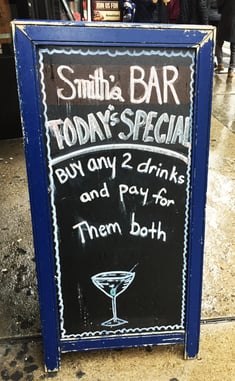 I snapped this picture while strolling through New York City recently. Planted on the sidewalk, dodging busy tourists, I chuckled and thought, "darn right!"


This sign is relatable, funny, and EFFECTIVE. Using just a dash of confident self-deprecation, this sign's humor suggests that its employees are likeable and fun – the type of people customers trust and return to again and again.
Humor is an under-appreciated tool for engaging employees and building resilient cultures. Leaders should remember that the funny bone is one of their best assets for positively transforming work environments. Humor doesn't create happiness, but it sets the stage for an atmosphere of light-hearted interactions.
The team that laughs together

STAYS TOGETHER.
There are many ways humor can jumpstart happiness at work. When it's motivating and disarming, laughter helps fuse teams together. There's nothing stronger than a team bonded in communal history, like co-workers who can fondly recall stories saying, "Remember that time when…".
The seed of happiness is often planted in

HUMOR.
Weaving appropriate humor into the workplace is one way to begin infusing happiness into your culture. Consider that "humor" and "human" are sprouted from the same root. Happiness is the flower that blooms as a result of the two.
Humor breaks down barriers and shows your employees that your culture is one that thrives on having fun and getting stuff done. This type of happiness is a business strategy that trickles down all the way to your bottom line. Because happy leaders produce engaged, inspired, and HAPPY employees, who desperately want to pass that pleasure onto their customers.
Don't consider yourself all that humorous? No worries. Leaders can "borrow" humor (like from the sign above) and share it with their teams. Organic humor discussions and better employee engagement will naturally flow from there.
---
Want to BE MORE EFFECTIVE? Follow us on the journey:
ABOUT MIKE DONNELLY
: With over 20 years of Disney leadership experience, Mike Donnelly, Chief Experience Officer (CEO) of Donnelly Effect shares his insights on Talent Selection and Hiring, Employee Onboarding, Customer Experience, Service Culture and Leadership-among others. Donnelly Effect is home of the exclusive "World-Class Workshop" series and offers consulting services and keynote addresses to audiences of all sizes and industries. Since 2007, Mike Donnelly has been a contracted Disney Institute Facilitator, delivering Disney customer service training to audiences across the United States.