Donnelly Effect delivers actionable SPARKS to #WorkHappy, using HAPPINESS BY DESIGN to shape and reinforce a culture of service.

Nearly every internal communication at Donnelly Effect – whether it's a text, email, or video conference – ends with one directive: to
WORK HAPPY.
We've come to understand that when we work happy, we deliver a BETTER PRODUCT.
Few believe that the words "work" and "happy" can exist autonomously, but they can! My time spent entrenched in one of the world's most admired companies, The Walt Disney Company, helped engrave this principle in me early on … that happy employees deliver happy customers.
Work can create a sense of accomplishment and yes, happiness. Effective leaders can intentionally infuse a culture of happiness in their people.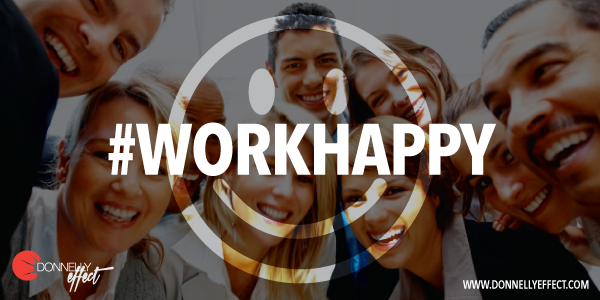 Happiness is a
PROACTIVE CHOICE
Happiness, like unhappiness, is a proactive choice. It's also contagious. For proof, look no further than the comparison between the Chick-Fil-A drive through experience vs. a Department of Motor Vehicles ordeal. Yes, I said it, ordeal.
Leaders should make a concerted effort to promote joy among their staff because mood permeates everything around it, good or bad.
So what does it mean to work happy? It means existing in an environment that's encouraging, efficient, fun and inspired. Working Happy is not fluff, it's an effective business strategy.
Happiness is a
BUSINESS STRATEGY
Focusing on happiness as a business strategy benefits both you and your workforce. Because when leaders are engaged, and inspired, they attract and grow engaged, inspired employees who work happy and in turn, delight customers.
Even better, delighted customers come back again and again – the ultimate business strategy goal.
Leaders and employees throughout the entire organization can proactively build happiness into their environment. Implementing small changes within yourself and your culture can influence success in so many wonderful ways.
Diagnose your service culture today. Is it thriving or merely surviving? If you're not truly inspired by your service, stay tuned. Our upcoming #WorkHappy Spark! series will help you use happiness as a business strategy. Commit to working happy every day, and you'll be surprised at the positive effects it has on your leadership, customer experience, and bottom line.
---
Want to BE MORE EFFECTIVE? Follow us on the journey:
ABOUT MIKE DONNELLY
: With over 20 years of Disney leadership experience, Mike Donnelly, Chief Experience Officer (CEO) of Donnelly Effect shares his insights on Talent Selection and Hiring, Employee Onboarding, Customer Experience, Service Culture and Leadership-among others. Donnelly Effect is home of the exclusive "World-Class Workshop" series and offers consulting services and keynote addresses to audiences of all sizes and industries. Since 2007, Mike Donnelly has been a contracted Disney Institute Facilitator, delivering Disney customer service training to audiences across the United States.